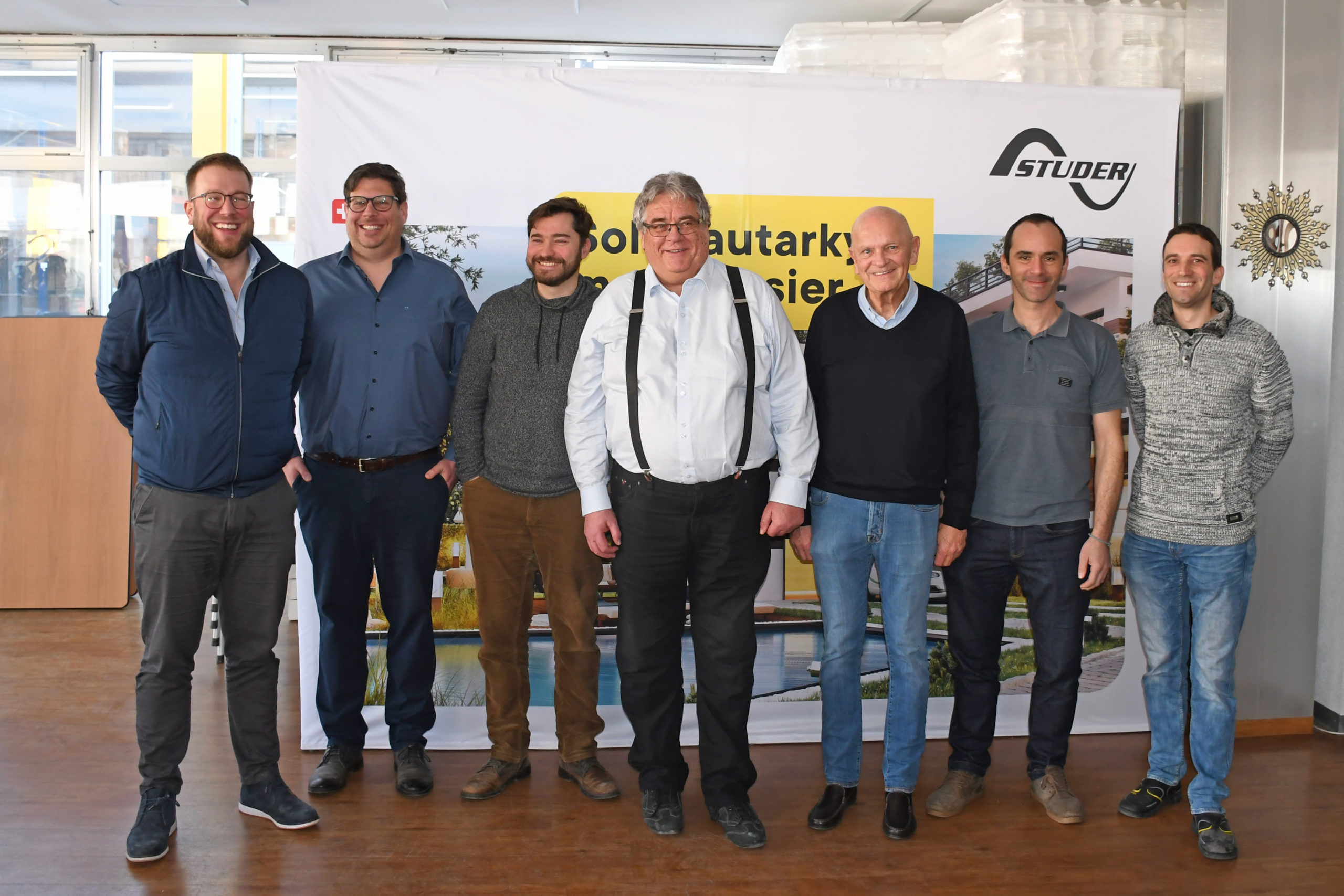 A changing of the guard: meet the new members of Studer's management team
Around 30 years ago, Roland Studer collaborated with Hans-Peter Biner to create one of the world's first battery-based sine wave inverters. This innovation put Studer on the map, and three decades later the two visionaries are still part of the company. Today, we pay tribute to them as we welcome new colleagues to our management team – and start a new chapter in our clean energy mission.
We would like to take this opportunity to sincerely thank Hans-Peter Biner for the passion, dedication, and professionalism he has shown throughout his career. After first collaborating with Roland Studer in the 1990s, Hans-Peter has left a lasting impact on our company through many external projects and collaborations over the last three decades. During this time, he was also a renowned professor of power electronics at the HES-SO Valais-Wallis School of Engineering. In fact, a significant percentage of our engineers and technicians attended his classes and developed the valuable skills they use today.
In late 2018, Hans-Peter officially joined Studer as a board member and our chief innovation officer. In this role, he has used his mastery of energy conversion, power electronics, and technical research to enhance our product range and launch several new offerings and special projects.
This year, Hans-Peter has decided to step down from his position at the company. Our 30-year industry veteran has been fundamental to the growth of renewable energy in Valais, and he will be sorely missed in our day-to-day activities. However, he will still share his expertise and collaborate with us on various ongoing projects.
Following in Hans-Peter's footsteps, we would like to welcome our colleague Samuel Bruttin to Studer's management team as chief technology officer and member of our board. Samuel holds a master's degree in electrical engineering from Switzerland's EPFL and has over 15 years of research and development experience in power electronics and renewable energy systems. As one of Studer's longest-serving engineers, Samuel has held multiple prominent roles within the company, including R&D electrical and electronic engineer, project manager, and head of R&D. More recently, one of his core focuses has been the development and launch of the 'next' series, our latest generation of smart hybrid inverter/chargers. We wish Samuel the very best in his new role and are confident he will keep our company operating at the highest level.
Studer's revamped R&D department
We have also made some changes in our research and development department. We are proud to announce Yann Cuenin as our head of R&D, overseeing our hardware engineering team. Working alongside him is Yannick Gasser, the new software team leader of our software engineering team.
Yann joined Studer in 2019 as an electrical engineer after working for the electronics company ABB and EV charging systems manufacturer Green Motion. He brings a wealth of new skills and perspectives to the role, and we are excited to follow his progression within our company.
Yannick joined Studer in 2017 as a development engineer after working for senseFly, a technology company specializing in drones, sensors, and software. Yannick has made a big impact at Studer as the driving force behind nextOS, our intuitive software interface for installers and end users.
Loïc Viret, Samuel Bruttin, Yann Cuenin, Hans-Peter Biner, Roland Studer, Pierre-Olivier Moix, and Yannick Gasser
Studer's new management team:
▫   Loïc Viret, CEO
▫   Pierre-Olivier Moix, CTO and board member
▫   Samuel Bruttin, CTO and board member (new)
▫   Yann Cuenin, head of R&D (new)
▫   Yannick Gasser, software team leader
#team #leader #swissmadepower