Launch of the next3 series 1
For the last months, we have continuously improved our next3 to provide a "highly stable and mature hardware version to fulfil all ongrid and offgrid autarky applications." asserts Samuel Bruttin (Head of research + development). Moreover, the software of this device will be regularly updated.
An all-in-one inverter designed to counterpart the energy limits of tomorrow
The next3 series 1 is a smart inverter charger of 16kW with 2 MPPT (8+8), a concentrate of our swiss innovation, that allows total control of the production, storage, and distribution of your electrical energy. With the added possibility of interacting with a public electricity network (ongrid). It is a scalable solution offering full backup.
"The next3 series 1 is 100% ready for the energy autarky!" insist Loïc Viret our CEO. The autarky represents the total energy independence for the next 30 years breaking through the actual environmental (fossil energies pollution), economic (energy price increases), and technical (grid blackout) limitations.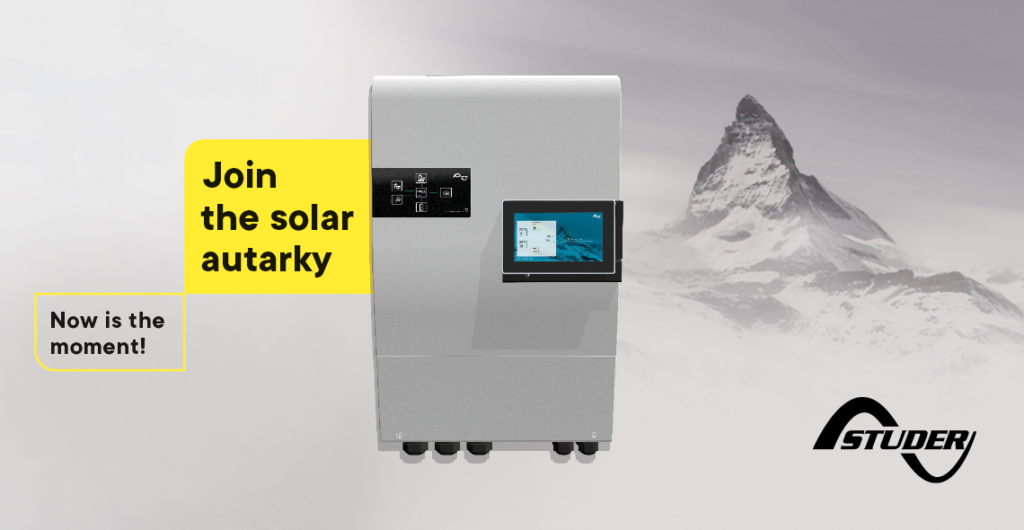 Assured deliveries despite worldwide component shortages and supplier delays
During the past months, we have found a stable production rate in our assembly line. Raphaël Zufferey (Head of operation) would like to reassure the customers regarding orders: "Even in this harsh period, we can respond to your next3 requests for the following months due to our anticipated procurement and Swiss manufacture."
Flexibility first and foremost: management of all the electrical flow in one single point
The next3 AC flex physical entry consists of a configurable second AC input (genset) or AC output (loads). In case of a blackout, the next3 will provide electricity from the battery storage to supply the electrical demand. When the battery storage capacity is low, crucial loads (lights, fridge, kitchen, heater, …) are maintained compared to deferrable loads (electric vehicle, swimming pool, spa, …) which are switched off. In addition, when upgrading an electrical installation, the Studer's next3 can be integrated with existing solar inverters.
The inverter charger is compatible with various battery technologies including lead-acid and lithium.
Our development team takes steps into international safety and grid code regulations. The latest grid code certifications implemented for the series 1 were for Austria (TOR Erzeuger Typ A) and Belgium (C10/11).
The open protocol Modbus will help you communicate (read and write) with the next3 in slave mode and therefore facilitating the professional integration of the device in your customised energy systems.
The nextOS matterhorn regular software updates
We ensure new features development through regular software updates for their next3 platform to configure, control and analyse your system in DE, EN, FR, IT, SP.
Effortless installation resulting in positive customer feedback
The installation of this 58 kg device requires 2 people and can be done with a drill machine and a screwdriver (included in the first 200 series 1 units) to screw the 8 heads on the wall-mounted structure.
"We had the chance to have several next3 already installed by partners for residential and SME autarky application with great feedback. That is why we want to thank our partners for their trust in the previous pre-commercial versions." testifies Serge Remy our Head of sales.
If you would like more information about the next3 or to purchase one, please contact info@studer-innotec.com . Our team will be happy to help you.