From Gas to the first 220 V solar – powered truck tour of America
Mr and Mrs Furer are an adventurous couple that changes attitudes towards travel aboard their 100% autonomous van "The Pepamobil". The countries crossed included the USA, Canada, Argentina, Mexico, Peru, Bolivia, Chile, Ecuador and Paraguay.
A journey with extreme conditions requiring flexible energy equipment
Originally this couple was having an electrical system combining solar panels with a gas generator and 120 l (31,7 gal) gas tank that could not stand the temperature and heat.
The couple started to think of a new improved system. This new system has to work 24/7, whatever the environment. The truck visit places up to 5.000 meters (16404 ft) above sea level with temperatures from -25°C (-13 F) up to +40°C (104 F) and humidity up to 95 %.
The combination of solar panels, inverters chargers and batteries is the most suitable option for a harsh environment.
220 Volts a more stable network for the embedded systems
As the couple originates from Switzerland, the mobile hybrid system is completely running on 220V with a small battery bank. It powers a refrigerator, a freezer, an induction hob, an oven, a water pump, lights, and other loads. Furthermore, the procurement of household appliances becomes easier and a lot cheaper when all appliances are 220V. Additional energy comes from a wind turbine.
This electric vehicle is running with our Swiss fully manufactured inverter charger hpc, one of our first devices, with an adjustable-charge detection system (1-20W) that allows the smallest energy consumption and ensures a long life of the battery.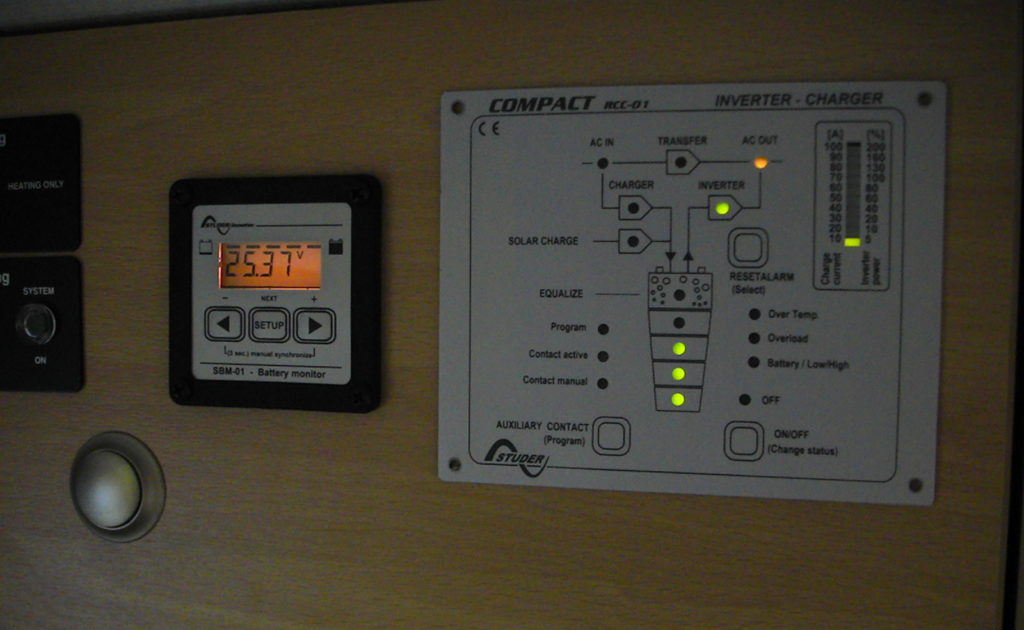 Solar energy, peace of mind for their trip compared to gas
 With this installation, the couple has no longer to worry about gas replacement or if there will be enough energy during their travels. Almost every country has its gas connections and rules on how to refuel gas cylinders. Furthermore, with gas, the power fluctuated between 95-220 volts making it hard for their electronics to function.
Since 2006, the installation of the Furer couple is working accompanying them day-to-day.